Bảo hành 03 tháng

Hỗ trợ cài đặt phần mềm miễn phí
| | |
| --- | --- |
| ♦ Bộ xử lý | : Intel® Core i5-6200U 2.3GHz, 3MB, 5GT/s |
| ♦ Bộ nhớ | : 8GB DDR4 bus 2133MHz |
| ♦ Đĩa cứng | : SSD 120GB |
| ♦ Đồ họa | : Intel HD Graphics 520 |
| ♦ Màn hình | : 15.6" Anti-Glare LED backlit HD(1366 x 768). Webcam |
| ♦ Mạng | : 10/100/1000 Mbps. |
| ♦ Mạng không dây | : Broadcom 4313GN 802.11 a/b/g/n. |
| ♦ Cân nặng | : 1.88 kg |
The EliteBook 850 G3 is the direct successor of the EliteBook 850 G3. However, the devices do not feature an identical build. HP again relies on a metal casing composed of aluminum and magnesium for its G3. The base unit's upper side and back of the lid are silver-colored. The base tray and display bezel are black. The G3 is visibly slimmer than its successor. Its weight has also been reduced and now weighs less than 2 kg (4.4 lb). This diet has affected maintenance friendliness though. The G3 no longer features the big maintenance hatch of its predecessor. The base tray has to be removed to access the innards - but more about that later. The laptop is set up like its predecessor inside. Furthermore, the G3 model no longer offers the option of strapping an additional battery on the device's underside.
The EliteBook does not exhibit any shortcoming in build. The device presents decent manufacturing; the gaps are even. The used materials make a quality impression. The stiffness does not give reason for complaint, either. The lid can be warped to a degree, but that does not lead to image distortions. These only become visible when pressing the lid's back, but then only in a few spots. The hinges keep the lid firmly in position and only rock marginally. Opening the lid with one hand is possible.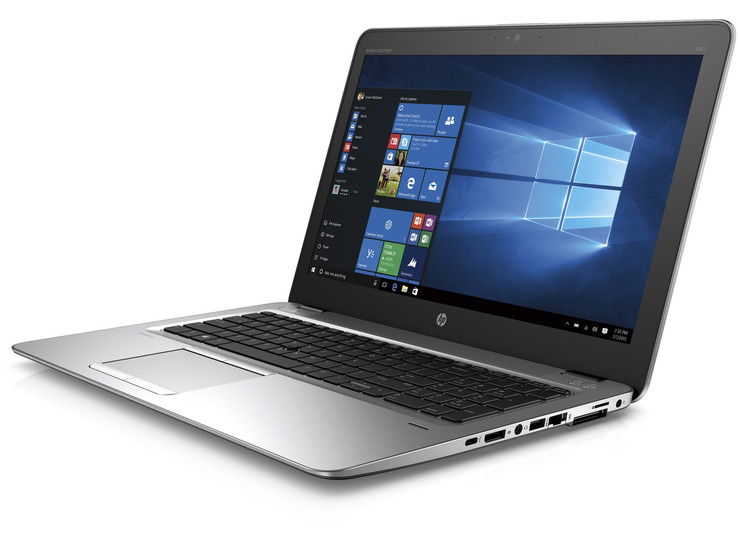 The laptop's connectivity is not very surprising. HP delivers the diversity of interfaces expected in the business sector. Good: A USB Type C port is installed. HP does not mention the terms USB 3.1 or Thunderbolt in relation with this port, and thus we assume that it is a conventional USB 3.0 port. The number of interfaces can be expanded considerably via the optionally available docking station. The interface positioning is favorable. The areas beside the wrist rest remain free of cables.

Communication
The EliteBook carries a Wi-Fi module by Intel (Dual Band Wireless-AC 8260). In addition to the 802.11 a/b/g/n Wi-Fi standards, it also supports the high-speed ac standard. Furthermore, the module adds Bluetooth 4.2 functionality to the laptop. The connection between laptop and router was always stable. Interruptions did not occur in a 15 meter (49 ft) radius around our router. Intel's Gigabit Ethernet chip (I219-V) takes care of cabled connections. Beyond that, our review sample sports an LTE modem - that is not the case in every EliteBook model. Thus, it is possible to access the Internet via mobile networks. The corresponding SIM card slot supports micro-SIM cards.
Webcam
The installed webcam shoots photos and video at a maximum resolution of 1280x720 pixels.